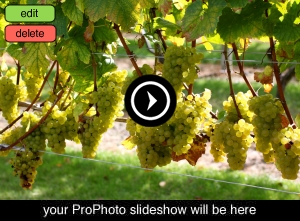 Carolyn's Sakonnet Vineyard is a great place to get away in rural Rhode Island. Located inside the picturesque hamlet of Little Compton, it's surrounded by fields, cottages, and cobblestone walls right off route 77.
Sakonnet's charm sets in early as you're whisked off the main road through a clump of tall, dark trees to a bright open pasture. Step out of the car and you'll realize you're just a short walk from the vines themselves, and in-between are plenty of open seats and tables just waiting for a new face and a fresh glass.
Now for those who like to explore or build up a thirst before taking their first sip, you can set out on foot and wander the length of the property. Not only will you get a close-up view of the grapes, but there are plenty of quaint little cobblestone walls to admire and a view of the neighboring reservoir just below.
Of course, on a sunny day, you might be ready to turn back sooner than you think, and the visitor center can be a welcome escape into the shade. Inside, you'll find a tasting menu featuring multiple varieties of wine, ranging from light and citrusy to dark and plum. Know what you like? You can purchase a bottle outright for about $14 each. Then you have your choice of seating, whether it be the cool high-top tables inside or the comfortable wooden rocking chairs outside. Stay as long as you like, and the staff will take care of things after you go.
All in all, there is a taste for every palate and you couldn't ask for a more relaxing outing on a warm sunny day. To plan your getaway and learn more about the vineyard, please visit their website at: www.sakonnetwine.com.